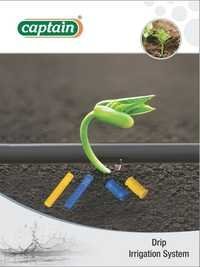 Drip Irrigation System
Product Description
We offer Header Assembly & Manifolds, which are applicable for assembling the filtration unit for enabling the functionality of mini and drip sprinkler irrigation systems. These are specifically simple cast iron or stainless steel components, which assist in collecting engine exhaust gas from more than one cylinder and bring it to the exhaust pipes. The goal of the execution is mainly to lessen the flow resistance (back pressure) as well as to boost the volumetric efficiency of the engines, consequent in an advantage in power output. Provided Header Assembly & Manifolds are the main assemblies in which other assemblies are equipped. These are capable to boost the irrigation systems and assist in increasing yield.
Key Points :
Outstandingly resistant to effects made by water such as rust or corrosion.
Offer optimal performance in the hardest working environment, included with duple pressure gauge ports, UV stabilized.
Offered with the functional efficiency and enhanced durability.
Primary usages are drip irrigation, mini sprinkler system, landscape irrigation.